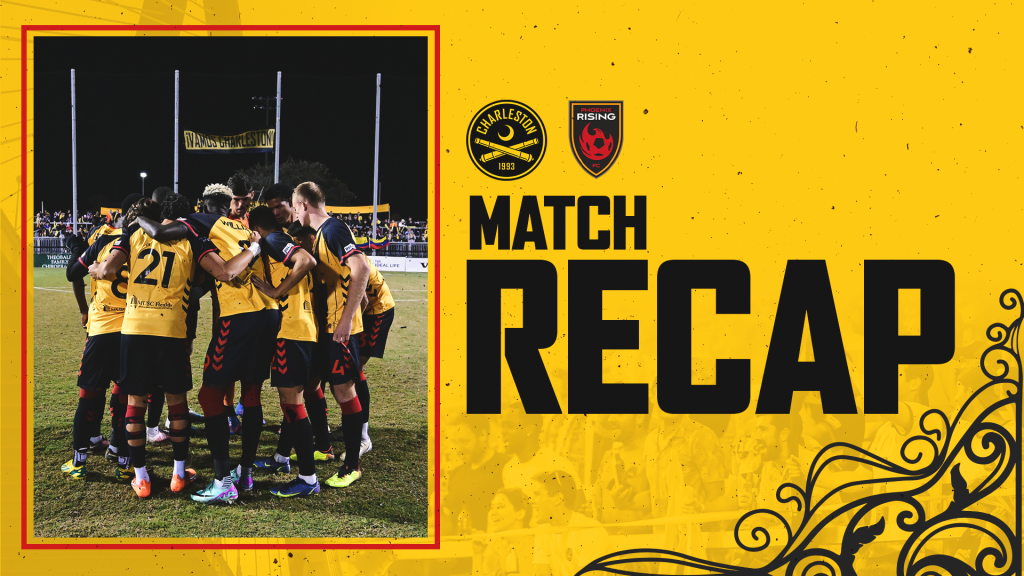 The Charleston Battery ended their 2023 season as runners-up USL Championship Final to Phoenix Rising FC after falling 2-3 in a penalty kick shootout following a 1-1 draw in regulation at Patriots Point on Sunday. The Final was played in front of a record-setting sold-out crowd of over 5,000 at Patriots Point.
Charleston opened the match looking to establish their game on the front foot. Arturo Rodriguez recorded the first shot of the night 41 seconds into the game with a header just wide of the frame. On the opposite end, Chris Allan denied a dangerous chance for Phoenix with a defensive intervention deep inside the 18-yard box.
After a wave of pressure against Phoenix as the half wore on, the Battery broke open the game in the 36th minute with a goal by Nick Markanich. The play was initiated by Emilio Ycaza with a long ball over the top to Mark Segbers who made a run down the left flank. From there, Segbers put it on a platter for Markanich to strike first-time to the far post.
The goal was Markanich's 13th of 2023 and second of the postseason. Segbers' assist was his first in Battery colors.
Charleston's 1-0 lead held into the break. The Battery outshot Phoenix seven-to-two in the first half.
The second half began with Phoenix eager to find a way back into the match.
A tense moment of the match came in the 66th minute when Emilio Ycaza made a defensive challenge inside the box against Carlos Harvey that resulted in a penalty given. However, a discussion by the referees saw the call reversed as Ycaza challenge was clean and all ball.
Charleston aimed to tighten their grip on the game in preservation of their 1-0 lead. The hosts also looked to add to their lead, with Arturo Rodriguez and Markanich recording shots on target through the 85th minute.
Phoenix, however, managed to equalize in the 90th minute in their last-gasp effort via John Stenberg, tying the game 1-1. The game would go to extra-time after neither team found a winner in stoppage time. It marked the first time since 2015 the USLC Final would go into extra-time.
The first period of extra time saw Phoenix apply heavy pressure on the Battery. Charleston's defense held firm, highlighted by a diving save by Trey Muse in the 99th minute. After a scoreless first period, the second period also failed to produce a goal and the 1-1 score remained. Penalty kicks would decide the winner.
Phoenix failed to convert their first two tries after Muse saved Emil Cuello and Daniel Krutzen's attempts. Charleston converted their first two attempts with AJ Paterson and Augi Williams putting the ball into the net. However, Phoenix would convert their next three attempts (Renzo Zambrano, Erickson Gallardo and Manuel Arteaga) while the Battery were unable to find the back of the net again (Leland Archer, Chris Allan, Derek Dodson).
Phoenix won the title after a 2-3 victory in penalty kicks following a 1-1 draw in regulation.
Charleston concluded their season as Eastern Conference Title-Winners and USL Championship Finalists, achieving a remarkable turnaround to the upper echelons of the league in 2023 after ending 2022 among the lowest-performing sides.
---
Head Coach Ben Pirmann addressed the media after the Final, with key quotes to follow.
Coach Pirmann on his takeaways from the Final…
First and foremost, congratulations Phoenix, deserving champion. Even though we played really well, battered them in the first half, and didn't concede much of anything in the second half, they're like a team of destiny. They did that four times. Full respect for Juan [Guerra] and Phoenix, they deserve it.
I'm so proud of [our] team, I'm so proud of this club. They worked their socks off. I told them in [the locker room], I said, 'In life and in football, when you treat people well and if you have respect and you work that hard and you're competent together, you can accomplish anything in life.' I feel like we let it down, because when you do everything right, why didn't it work out, a little bit unlucky. We're disappointed. Our trophy was right there at our fingertips. It just didn't work out, but the boys played so well.
Coach Pirmann with a message to the fans for their support all year…
First class, everybody, top to bottom, we wouldn't have been able to have this season without them. You play football for two reasons, players to enjoy it and the supporters to enjoy it. Everybody in this club and in this community got to enjoy themselves this year.
We feel disappointed that we didn't get the win and didn't get to lift that trophy. But, I'm so proud of this group. Can't hang your head down, you've got to keep it up and our fans should as well. Hopefully, we can just build off of this and keep going.
---
While the 2023 season has come to an end, the Battery are looking to build upon the success in the 2024 campaign. Season Memberships are on sale now for the 2024 season. Members enjoy access to exclusive events, ticket and merchandise discounts, and more. Take advantage of early bird pricing by purchasing your Membership before January 1, 2024. 
Lineups:
CHS: Muse, Dodson, Archer, Palma, Segbers (Paterson, 119'), Ycaza, Allan, Markanich, Rodriguez (Crawford, 89'), Trager (Avila, 63'), Williams
PHX: Novo, Traore, Stenberg, Fuenmayor, Munjoma (Uzochokwu, 83'), Harvey, Hernandez (Zembrano, 58'), King (Gallardo, 58'), Trejo, Armenakas (Cuello, 71'), Formell (Arteaga, 71')
Scoring Summary:
CHS – Nick Markanich 36' (Mark Segbers)
PHX – John Stenberg 90' (Mohamed Traore)
---
Penalty Kick Shootout
CHS – AJ Paterson 1-0
CHS – Augstine Williams 2-0
PHX – Renzo Joes Zambrano 2-1
PHX – Erickson Gallardo 2-2
PHX – Manuel Arteaga 2-3