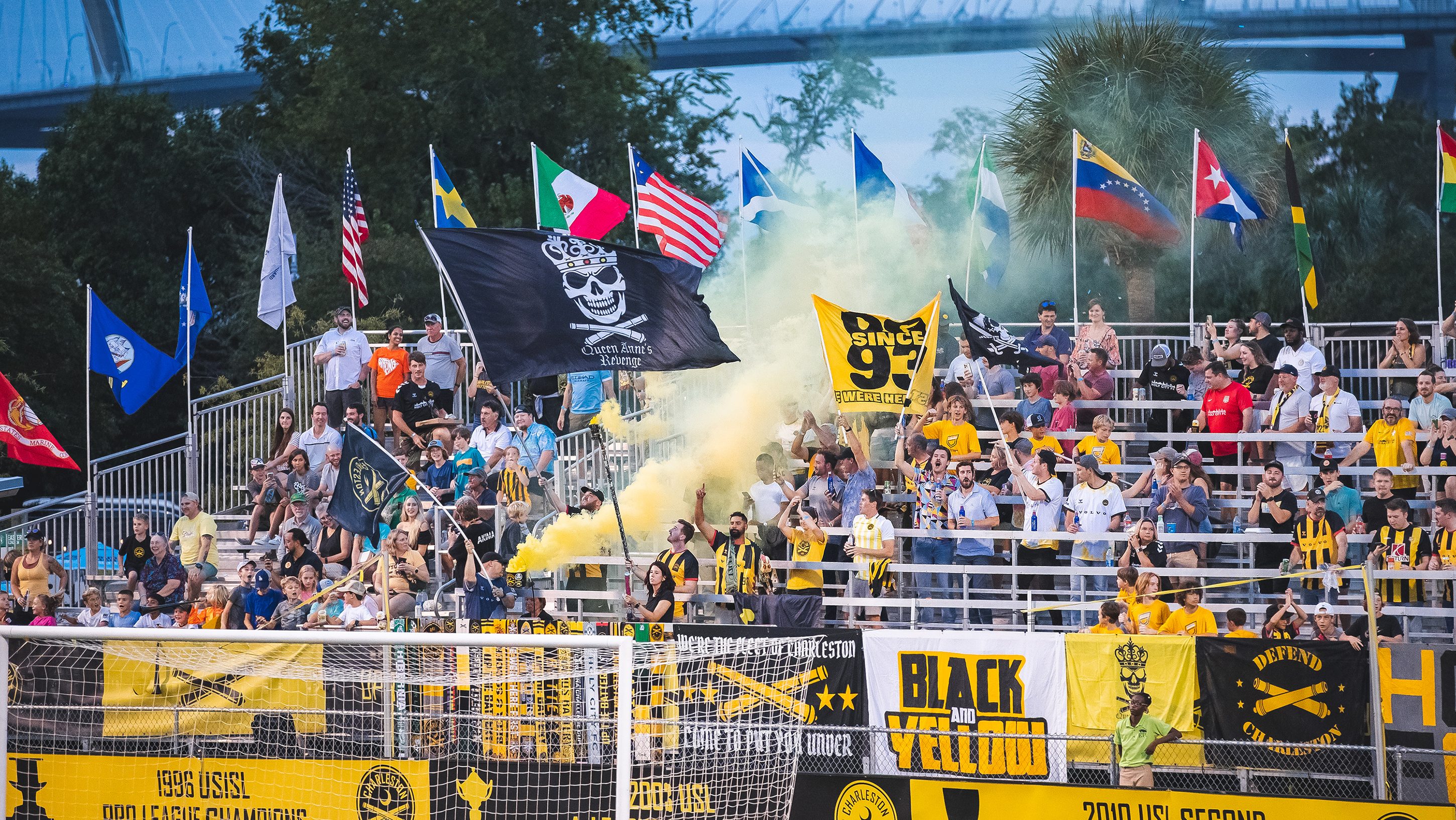 In the tradition of professional clubs around the world, the Battery have multiple independent groups of faithful supporters who cheer on the Black and Yellow every matchday.
The Regiment, established in 1999, cheer loud and proud at Patriots Point from the brand new Supporters Section situated behind the north end goal. The Regiment include some of the Battery's longest-time supporters who have been following the club since the very start! The group hosts pregame tailgates outside Patriots Point before passionately cheering on the Black and Yellow for all 90 minutes during matches.
Queen Anne's Revenge return after originally starting up in 2014, and they bring plenty of energy in their fandom of the Battery. If you haven't seen them by the yellow smoke they set off, you have likely heard the group by their ever-present drum beats that can be heard throughout the stadium. QAR additionally lead a pre-match supporters march roughly 30 minutes before kickoff and all supporters are welcome to join in the march!
The Battery Bombshells, founded in 2022, started as a group of ladies supporting each other beyond just soccer. They are a female-led supporters' group with a strong mandate to encourage more women and girls to become active in supporter culture. The group welcomes everyone who wants to support the Battery – all ages, all genders, all sexual orientations – you just need a love for the Black and Yellow and show your support through singing, flag-waving, and having fun!
The Supporters Section is a General Admission section that includes both bleacher seating and safe-standing room with drink rails for those supporters that like to stand for all 90 minutes of the action on the field.
You can join all the Supporters' Groups in the section with tickets costing just $12 per match, or $10 per match for all 17 home games with a Season Membership!
---
CONNECT WITH THE REGIMENT
---
CONNECT WITH QUEEN ANNE'S REVENGE
---