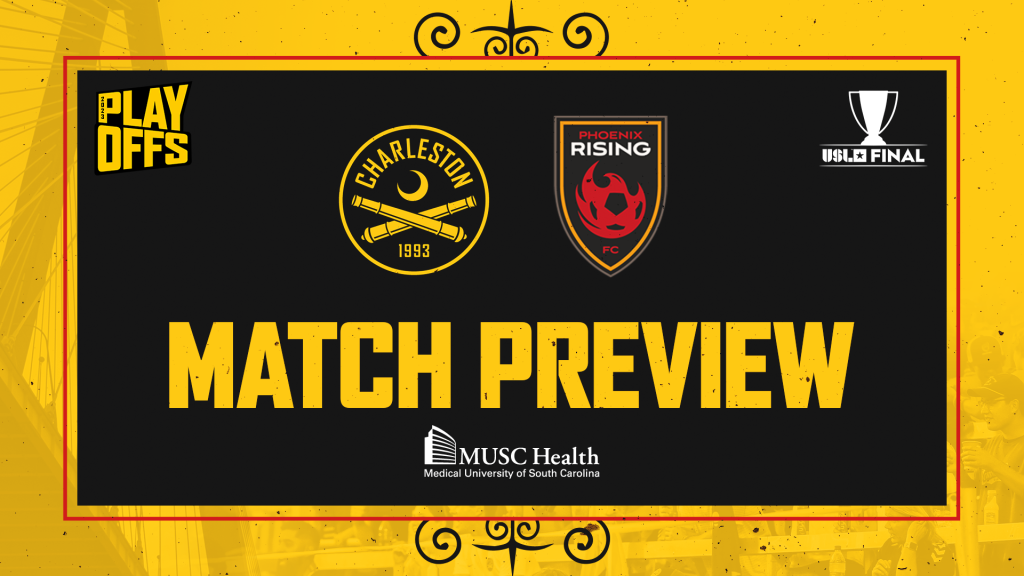 Presented by MUSC Health
It's here, this is the end. The Charleston Battery are set to host Phoenix Rising FC in the USL Championship Final on Sun., Nov. 12. Kickoff at Patriots Point is 7 p.m. ET.
The Final is a rematch of the opening game of the season, when the Battery played Rising FC to a 1-1 draw at Patriots Point on March 11.
Charleston, four-time league winners, will be vying for their fifth league title in the club's 31-season history. Phoenix, on the other hand, are three-time Western Conference champions and will be looking for their first league crown.
No. 3 Charleston's path to the Final came via three home wins: over Indy Eleven (5-0), Birmingham Legion FC (2-1) and Louisville City FC (2-1). The Battery knocked out defending Eastern Conference champions Louisville to reach the Final for the first time since 2012. Arturo Rodriguez and Augi Williams (PK) scored to see the Battery through.
No. 6 Phoenix went on a demolition tour of California to reach the Final: defeating San Diego Loyal SC (3-4), Orange County SC (1-2) and Sacramento Republic FC (1-2) all away from home. Phoenix had the Sacramento fans believing this was the end for them through 80 minutes until a Republic FC own goal and an Emil Cuella stoppage-time winner turned the tables at the very end.
Leland Archer is a player to watch for the Battery. The skipper has been a key component to the Battery's defensive renaissance and leads the team with 153 clearances (third-most in the league) and 17 blocks.
Danny Trejo is one to keep an eye on for Rising FC. Trejo, an All-League First Team selection and USLC Player of the Year finalist, has been leading Phoenix's potent offense with a team-high 19 goals and seven assists in league play.
Both Charleston and Phoenix's turnaround stories are similar as the sides ascended to the Final after missing out on the postseason last year. They are the third and fourth teams in league history to accomplish the feat.
In addition to the Battery looking to win their fifth league title, Sunday's Final is the fifth championship match played in the Lowcountry; the 1996, 2003, 2010 and 2012 titles were all in Charleston.
The Final will also feature former Phoenix players Arturo Rodriguez and AJ Cochran going up against their old club for the Battery.
Sunday's Final will be played in front of a sold-out crowd at Patriots Point. Fans not in attendance can catch the game via national broadcasts on ESPN2, ESPN Deportes and SiriusXM FC (Ch. 157).
FROM THE TRAINING GROUND
Head Coach Ben Pirmann, defender Leland Archer and midfielder Chris Allan addressed the media prior to the Final, with key quotes to follow.
Coach Pirmann on the message to the team this week…
Everything's positive. Last week of the season, so still focused on having a growth mindset, improving, and making sure that we're dialed in to get ready for a tough Phoenix team. Vibes are good, health is good. Just trying to put our best foot forward, making sure that we're prepared and go for it on Sunday.
We're excited to be at home. We like playing here. We like playing in front of our crowd. It should be a tremendous atmosphere.
Coach Pirmann on facing Phoenix again after meeting in the season opener…
I think what it's going to be is who can manage the moments – five minutes, 10 minutes, first half, second half – and just making sure we can keep ticking over. Then, hopefully, after 90 minutes, we're the team that's done enough.
The important parts are making sure our minds and our bodies are ready to go, making sure that we know the tasks to beat a tough Phoenix team. But, the focus has been good, concentration is good. I think the attitudes are really high. Now it's about managing the emotions.
Archer on the mindset of the squad going into the Final…
Everybody in the locker room is excited about the game coming up. We're happy that we won the Eastern Conference, but I think everybody is not satisfied to just win that, they want to win it all. [Coach Pirmann] does a really good job of making us forget about the last game we played no matter the result and focusing on the game ahead. All season long, the team has brought a lot of energy on the field, not only us, but the fans as well.
Allan on the approach in the week leading up to Sunday…
Every day we come in to train we're just making sure we're all pushing each other to get better and better and better every single day. The final is a final and you want to win, so you just got to take that hunger and that energy, that excitement you have, channel it, stick on and just get ready to win at all costs. Of course, we're extremely happy and just blessed to be in the position. We are really in a great mood.
MATCH INFO
USL Championship Final
Charleston Battery vs. Phoenix Rising FC
Sunday, November 12 – 7 p.m. ET Kickoff
Patriots Point
HOW TO WATCH:
Tickets for Sunday's match are completely sold out.
The Final will air on ESPN2 and ESPN Deportes domestically, SiriusXM FC (Ch. 157) on radio, and through the league's YouTube channel for free internationally.
If you've made it this far, thank you for reading this and all the other match preview articles this 2023 season!