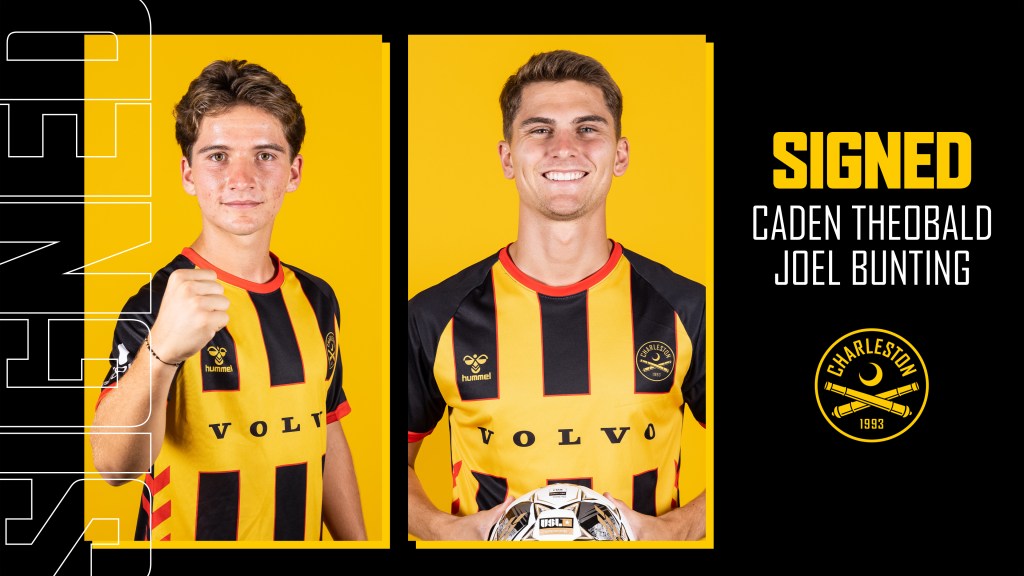 The Charleston Battery announced Thursday the signings of Charleston natives Caden Theobald and Joel Bunting to the roster, pending league and federation approval. Theobald and Bunting both join on 25-day contracts for their hometown club.
"I couldn't think of a better place to start my career, I've grown up in Charleston and been watching the team my whole life," said Theobald. "The history of the club, along with the amazing supporters, makes it the perfect overall club."
"This city and this team have my heart and I am grateful that I am able to give back," said Bunting. "It feels great to be back and I am super excited to return to the pitch with my old teammates again."
Caden, 18, signs his first professional contract in joining the Battery. The midfielder played collegiately at Northwestern University during their 2021 season. Theobald made two appearances for the Wildcats, debuting on September 6 against the University of Missouri-Kansas City, a 4-1 victory.
Bunting rejoins the club after spending the 2021 season with the Black and Yellow. The forward featured in 20 matches during that campaign, scoring four goals and adding one assist. Bunting's first professional goal was a match-winner against Miami FC in front of the Patriots Point crowd.
Battery Head Coach Conor Casey is looking forward to bringing aboard the pair of players.
"Caden has shown really well and he's earned this contract at the end of the year, to be able to help us in the midfield areas or up top or wherever he is needed," said Coach Casey. "Joel was here last year and we're looking for him to bring a lot of energy, we know he's got a good engine and he scored some goals for the team."
Prior to Northwestern, Theobald competed with South Georgia Tormenta FC's USL Academy team in the summer of 2021. He also played for development sides Jacksonville FC of MLS Next, and Cainhoy Athletic SC and SC Surf Soccer Club in Charleston.
Bunting played collegiately at USC Upstate and tallied eight goals and three assists during his time with the Spartans while playing as both a midfielder and a forward. He was honored in 2016 with an ASUN All-Freshman Team selection. Joel is also a graduate of Bishop England High School.
Both Theobald and Bunting are eager to make an impact with the Battery.
"I've been working towards it for as long as I can remember, so to finally achieve it means the world to me," said Theobald. "Since I've been here, the players and coaches have really helped me adjust to this level and been pushing me to improve. I'm looking forward to continuing to grow and contribute to the success of the club."
"I am looking to add a different attacking threat, I am a fierce competitor amongst many of my teammates and ready to leave it all on the pitch," said Bunting. "It is important for us to stay positive and give it our all in these final games."
Theobald and Bunting will wear the numbers 29 and 28, respectively, and will be available for selection in the match against Rio Grande Valley FC Toros on Friday, September 23.