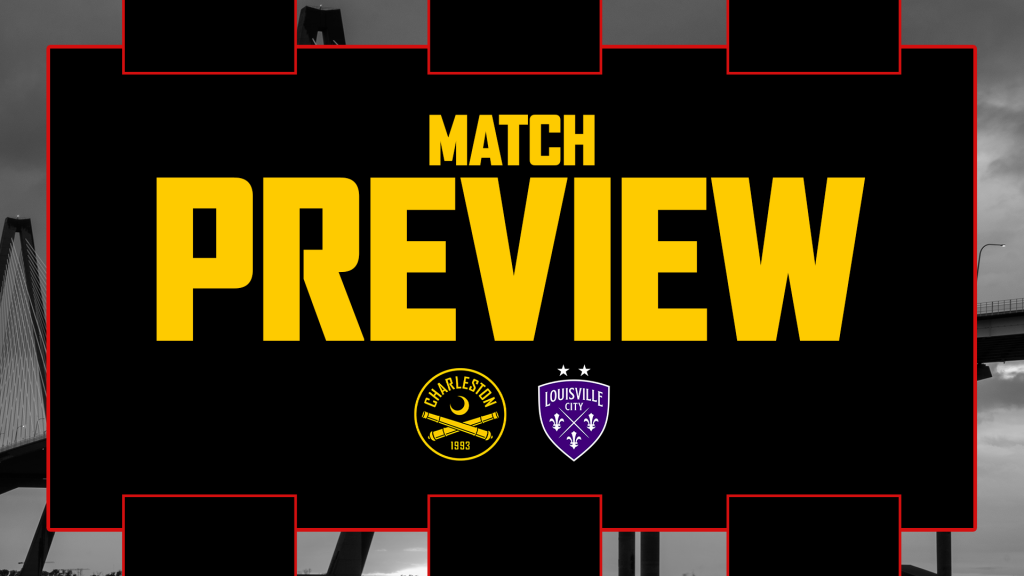 The Charleston Battery host Louisville City FC on Saturday, April 23, for the first meeting between the two clubs since 2019. Kickoff at Patriots Point is slated for 5 p.m. ET and the night will also be Louisville's first trip to Patriots Point.
Saturday will feature Family Day at the stadium, with several family-friendly activities taking place throughout the afternoon and evening – including a free concert before the match, face painters, inflatable games and a post-match player autograph signing session in the Battery Pavilion.
Louisville have put together a strong start to the 2022 season, undefeated through seven games, and currently sit top of the Eastern Conference table with 17 points. In league play, the Kentucky outfit are coming off a 2-5 road victory over San Diego Loyal SC last Saturday. It was a back-and-forth affair before Louisville iced the game in the final 15 minutes with a pair of goals to close things out. The match also featured three penalty kicks and two red cards as both clubs ended the night with 10 players.
Charleston were off during last weekend's round of contests, taking advantage of the time for additional recovery and preparation ahead of Saturday. The last time out for the Battery was also against San Diego, however, it was a 4-1 away loss. Mauro Cichero tallied his first goal of the 2022 season off a brilliant cross from Geobel Perez after Perez dispossessed San Diego just moments before. The Black and Yellow caused SD Loyal fits during much of the match but a few isolated moments enabled the California club to secure the three points. 
When Charleston and Louisville last met in 2019, Louisville were victorious in both matches. The Battery's last win over Louisville came in July 2018, a 2-1 result in Charleston.
Louisville will be without defender Sean Totsch, who has appeared in all but one match this season, due to a red card issued in the match against San Diego.
The night has the potential to be a notable one for goalkeeper Joe Kuzminsky, who is poised to make his 100th appearance for the Battery across all competitions on Saturday. The century mark will come one day before the anniversary of his Battery debut, April 24, 2018.
Ones to watch
Wesley Charpie
Charpie is coming off a strong showing in the victory over San Diego. The defender scored a crucial goal just before halftime that put Louisville solidly ahead, and also completed 23 of 29 passes while making three clearances and four interceptions. For his efforts against San Diego, Charpie was named the USLChampionship.com Player of the Match and to the USLC Team of the Week. Expect Charpie to have another important role on Saturday.
Mauro Cichero
Cichero scored his first goal of the 2022 season and his first since 2020 when he found the back of the net in the first half against San Diego. The Venezuelan also tallied two key passes and was accurate on all four of his crosses. Cichero is currently tied for the team lead in chances created (five, with Aidan Apodaca) and in aerial duels won (11, with Preston Kilwien), despite missing one match. Now that he has scored his first goal after several close attempts earlier in the season, look for Cichero to maintain that productive momentum for the Battery. 
From the training ground
Charleston were off in the previous round of league competition and used the additional time to regroup following the cross-country trip to San Diego.
The Battery headed back at Patriots Point for training after the SD Loyal match to get preparations underway for Saturday's contest. Head Coach Conor Casey said the team has been effectively using the extended period of time at hand.
"It's been a great two weeks spent, I think it came at a really nice time for us to have a bye week," said Coach Casey. "It's been good to get some more time on the training pitch, more time in the video room and more time to prepare for the big match coming up this weekend."
There were multiple focus points during practice across the two weeks.
"We've been working on a lot of different things," said Coach Casey. "Both with the ball and without, being a bit more aggressive going forward, and being able to create some space for ourselves to create opportunities."
Battery defender Matt Sheldon is very familiar with Louisville after having squared off against them many times the past couple of seasons before suiting up for the Black and Yellow.
"I've been playing against Louisville for the last four or five years now, they're always a top team in the USL," said Sheldon. "A high-pressure team, they play a very high line and they're always one of the toughest teams to play against. We've been doing a lot of film on them, scouting them and preparing our shape."
Although recent results haven't gone the way the squad wanted them to, Sheldon believes they've been able to adjust in the time between matches to make the necessary adjustments.
"Whenever you lose a couple of games, it's never fun and the mood definitely dips, but I think it's important to learn from those really quickly and move on," said Sheldon. "We were able to take this extra time and focus on all parts of our game to really bring us up to a higher level coming into this weekend."
Saturday will also be a return to playing in front of the Patriots Point faithful in a league match for the first time since April 1, an opportunity the squad is looking to make the most of.
"Playing away from your home stadium is always hard, so it's fantastic to get back here this weekend," said Sheldon. "I'm extremely excited to come back and play in front of that atmosphere and to have everyone there rooting for you."
As of posting, Augustine Williams is questionable and DZ Harmon, Enock Kwakwa, Brett St. Martin, Kyle Holcomb, Matteo Ritaccio, and AJ Paterson are out. 
Charleston Battery vs. Louisville City FC
Saturday, April 23 – 5 p.m. ET Kickoff
Patriots Point
HOW TO WATCH:
Tickets are available for Saturday's match, but sections are starting to sell out. Buy tickets for the game via SeatGeek, the club's exclusive digital ticketing provider.
All Battery matches will also stream on ESPN+ domestically and through the league's YouTube channel for free internationally.