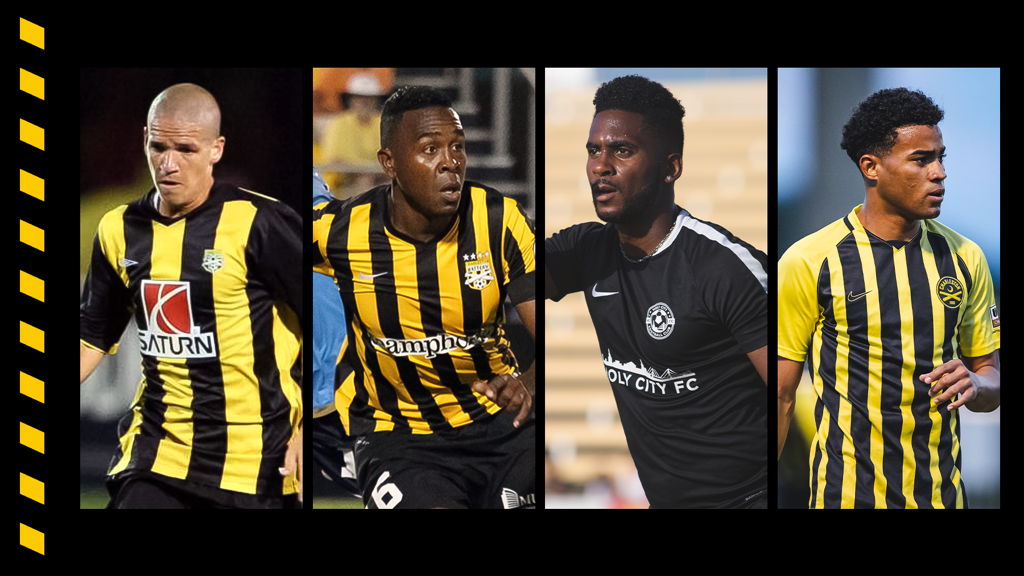 For Hispanic Heritage Month, we looked back at the lineage of Cuban players who found a home in the Charleston Battery over the last decade-plus.
---
For them, it was an opportunity to improve their lives while taking their careers to the next level.
"I started to think about looking for a better future and more possibilities since I had the talent, and that I could have a better life in the United States."
"I realized playing in Cuba that soccer has a roof at some point, and when you get to that roof, there's no way to keep developing yourself."
In the last decade-plus, 10 Cuban players have taken the field for the Battery, with forward Geobel Pérez currently carrying the legacy on the 2021 squad.
The ball really got rolling in 2008, when Cuba's all-time top scorer and a young up-and-coming midfielder defected from the national team while in the U.S. during the Concacaf Gold Cup the year before. The players were Lester Moré and Osvaldo "Ozzie" Alonso. Both were at different stages of their careers while ending up in Charleston around the same time ahead of the 2008 USL First Division season.
Alonso said he knew he planned on remaining in the U.S. before leaving for the tournament.
"The idea of staying in the United States was already in the back of my head," said Alonso. "So, I did once I was able to come to the United States, but it was a tough process, being young, straight from Cuba and not knowing the language."
Battery Head Coach Michael Anhaeuser signed Moré, with Alonso joining the team soon after, but Anhaeuser knew immediately Alonso was a special talent.
"The biggest thing was the two days Ozzie was here, what we noticed right away when he stepped into those informal training sessions was that he dominated," said Anhaeuser. "The talent was there, but he had that determination to do whatever it took to win. He had all the tools, it was just going to be a matter of refining it and getting him to get comfortable and playing."
Ozzie and Lester displayed the skill that could come from the sequestered island nation.
Anhaeuser credited Alonso as a key driver in the club's run to the 2008 U.S. Open Cup Final, while also knowing then that Major League Soccer was not out of question for Ozzie after the season.
The run to the final was also one of Alonso's fondest memories with the club.
"Making the U.S. Open Cup Final [in 2008] was probably one of my best memories ever because it was a fun time, a good group of players, good staff, everything," said Alonso. "It was a very enjoyable moment."
In joining the Battery, Moré and Alonso did more than just help themselves and the team that year, they opened the door for future Cuban players with similar dreams and aspirations to follow their path, especially in the Holy City.
This was expressed in the talented trio of Cuban players who arrived in Charleston in 2013: Heviel Cordovés, Odisnel Cooper and Maikel Chang.
The three escaped together from the Cuban national team in Toronto ahead of a World Cup qualifying match in October 2012 – nine years ago, this month. After eventually ending up in Florida and continuing to train there for a few months, they all earned spots in Anhaeuser's squad after a tryout.
"When we got the call for the three, we took care of them, they all felt they were taken care of here and made them like family," said Anhaeuser.
"We wanted to stay together, the three of us, and we knew that there was a chance that Coach Anhaeuser wouldn't take us three at the same time," said Odisnel Cooper. "But, he saw something in us and we're very thankful that he gave us the opportunity to play here."
Cooper enjoyed a successful tenure as the Battery's shot-stopper from 2013 to 2018. Known as "Super Cooper" by fans, Odisnel made over 100 appearances for the Battery and was an All-League selection in 2015. He was the first goalkeeper in Championship history to notch 40 regular-season clean sheets and was named to the league's All-Time Hispanic Team.
The decision to defect did not come lightly and the players knew they would face harsh consequences if caught in the act. To them, it was still worth the risk.
"It was extremely challenging, there were families that we left behind, my mom had passed away before I left, but I still had my dad, sisters and friends over there," said Cooper. "At the moment, we didn't know how much of an impact it could have on our lives. Looking back, it was the best decision we have ever made."
"You are leaving everything behind, all that you know in your lifetime to face new life challenges," said Heviel Cordovés. "At the end of the day, it was good for us because we tried to fight for our future."
Even in 2018 for Pérez, who said he made more of a snap decision while in Florida to leave the U-20 national team, the choice was not initially easy on him.
"I felt a lot of adrenaline in my on my body at the time, and suddenly I was sad because I was leaving everything behind," said Pérez through Cordovés translating. "But, at the same time, I was looking to the future and I know it was the best decision of my life."
Although it is possible to leave Cuba legally, play abroad, and return, Cordovés described that as a privilege that few have, making defection the only option left.
Joining the Battery in groups was not only a trend, it was a key to the success of making the transition from Cuba to the United States. While previously playing together helped them on the field, it was when adversity struck that the camaraderie helped them get through the tough times in their new home.
"Maikel Chang, in that first season, pulled his hamstring severely, so he passed through a very dark moment and it was very difficult for him," said Cordovés. "If we weren't there for him and he was on his own, I feel he was going to quit soccer and I don't doubt that he would have done that, but he had me and Cooper there supporting him to face that challenge, and he overcame it."
"Ozzie and Lester were way more comfortable when they knew somebody, it does help them to have a fellow Cuban with them in their transition," said Anhaeuser. "You never know what's going to happen playing, like with Maikel Chang, if he didn't have [Cordovés and Cooper] to lean on, it might have been very difficult for him."
Chang would also make over 100 appearances for the Battery, tallying 14 goals and 21 assists across all competitions, and joined Cooper in the league's All-Time Hispanic Team. Chang, like Alonso, has since elevated to MLS, with Utah club Real Salt Lake.
Pérez is currently the only Cuban player on the squad, but he has had the help of fellow Hispanic players Angelo Kelly, Romario Piggott and Mauro Cichero help him navigate the transition. He also stays in regular contact with Cordovés, who views Geobel as a younger brother that he's helping in the same journey he made years earlier.
While being welcomed in the locker room, the players from Cuba were also embraced by the fans and the local community as they embarked on this journey.
Cordovés, especially, remembered his interactions with the supporters fondly.
"The post-game meetups were really fun but it's very foreign because fans of other teams might not have that chance," said Cordovés. "It's very good because the fans can connect with players here. There are a lot of supporters that became very good friends, like family, afterward just because of those interactions.
"Playing here was an amazing experience and I think it's safe to say that Charleston is one of the most welcoming communities around."
Anhaeuser noticed the interactions between the players and fans, crediting those moments for helping the Cuban players find comfort in the Lowcountry.
"That just shows that these fans care, and they understand also how important it is to make a player comfortable in the community, because if he's comfortable in the community, he's only going to be better on the field," said Anhaeuser.
Cordovés and Cooper continue to be a part of the Charleston community since retiring. Both coach youth players while also finding time to volunteer and give back in areas beyond the sport, such as school and church activities.
Even since that trio played, Geobel attests that the welcoming nature of the city is still alive and well during his first season with the Battery.
"Charleston feels like a second home to me because a lot of the people in the city, and especially the fans, are very supportive," said Pérez. "Of course, I love the games because of the atmosphere and how the supporters create that environment."
Something that's not lost on Pérez during games is carrying the legacy of the Cuban players who came before him.
"I feel a great responsibility because past Cuban players have opened the door for Cubans like me playing in America now, and especially at the Charleston Battery," said Pérez. "I feel I have to do the same, to keep that door open for the future Cuban players that will come after me."
Pérez had a chance to meet the man who started it all during a 2021 preseason friendly when the Battery played Minnesota United FC, where Ozzie Alonso has captained since 2019. Geobel called the experience "something incredible" and said Alonso gave him advice during the meetup.
"That day, I saw the look on Geobel's face and I think he understands that he has an opportunity just like Ozzie did, and I'm sure [Pérez] is going to do everything he can to try to take advantage of that," said Anhaesuer of seeing the two players meet in the preseason.
For Cooper and Cordovés, both take pride in seeing another Cuban player with the Black and Yellow.
"It means a lot that the Cuban flag is still flying here, it's always good to see someone from Cuba playing on the Battery," said Cooper.
"It's a proud moment, every time that he steps on the field, it's a proud moment for all of us, because he's continuing that legacy, so he's kind of speaking for us on the field," said Cordovés.
Cordovés said he sees shades of Maikel Chang reflected in Pérez, between similar styles of play and how they approach the game.
Will Pérez pass the baton to another Cuban player at the Battery? It's impossible to tell the future, but Anhaeuser believes the island will continue to produce top talent worth keeping tabs on.
"We're keeping an eye on Cuba, the talent is still there, and now the only problem is it's not just us watching," said Anhaeuser. "We've had success and hopefully we can keep that going as long as the players keep getting better, which they are."
Either way, the lineage currently continues with Pérez, and Alonso is honored to see the players who came after him who were inspired by his journey through Charleston back in 2008.
"I'm very flattered, it brings me joy that they're using me as a role model to keep pursuing their career, to keep pursuing their dreams, to come to America, to take a leap of faith and to be adventurous," said Alonso. "I wish Geobel all the best, just keep working hard and I hope to see him have a successful career like I did."
Special thank you to Minnesota United FC for assisting in the coordination of Alonso's responses for the article.