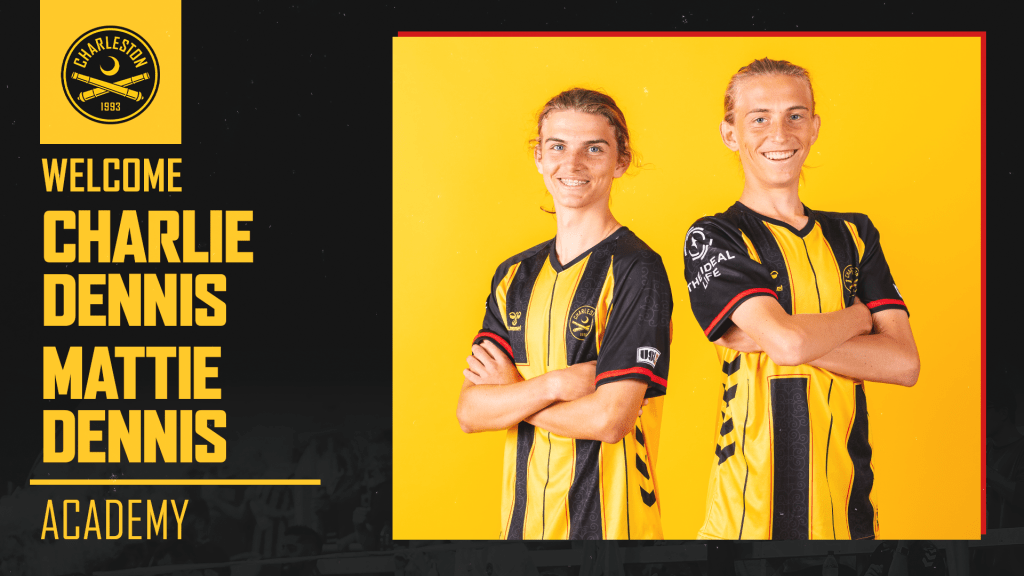 The Charleston Battery announced Tuesday the signing of Charleston natives Charlie and Mattie Dennis to USL Academy contracts, pending league and federation approval. The Academy contract will allow them to gain valuable experience at the professional level while still preserving their college soccer eligibility.
Charlie, 18, and Mattie, 16, grew up in Charleston and could say they started their Battery careers as ball boys for the team during games in the early 2010s. The two were invited to try out for the team during the 2023 preseason and earned their spots after impressing the coaches since arriving.
Both are excited about the opportunity to compete for their hometown and hometown team as members of the Black and Yellow.
"It feels like a dream to sign with my hometown club, the Charleston Battery," said Charlie. "There is no other city or club that I would rather represent. Growing up having watched Battery games makes this all so surreal."
"It hasn't fully hit me yet, but I'm really excited to be part of the Battery," said Mattie. "The overall environment has been amazing. Growing up in Charleston, this club means a lot to me, and I'm thrilled and honored to represent my hometown with the Battery." 
Charlie, a central midfielder, is a recent graduate of Oceanside Collegiate Academy in Mount Pleasant. He captained Oceanside during his senior year in 2022 and was a state champion in his freshman year in 2018. Outside of high school, he played for local development team SC Surf Soccer Club and South Georgia Tormenta FC's academy side in MLS Next.
Mattie, a forward, is currently a junior at Oceanside and played alongside Charlie the previous two high school seasons. He currently also plays for SC Surf and previously competed with Tormenta in MLS Next. During the Battery's preseason, Mattie featured in the match against Charlotte FC at Bank of America Stadium last February.
Head Coach Ben Pirmann is elated about signing the local players to Academy contracts.
"Charlie and Mattie had a tremendous preseason, they have trained hard, showcased their technical and cognitive abilities, and proven to be selfless for this club," said Coach Pirmann. "We are thrilled to be able to add them to the roster for the 2023 season.
"Soccer is all about the community; being able to add two local standouts to the roster is what this sport and community are all about. These players are here to compete and to make the Battery even better on and off the pitch."
The brothers are ready to get started in this next chapter of their careers.
"The first few weeks with the team have been great," said Charlie. "The pace of training is a lot faster and we're held to a very high standard. It has been great to learn from the experienced guys on the team and I am really excited to get to work this season."
"Joining the team is something I did not expect to happen so early on in my career, but I am so grateful for this opportunity," said Mattie. "When I started training with the team, the guys were nice and it was fun to play with athletes at a high level. I felt like I fit in and that I could contribute to the team."
Charlie and Mattie will wear numbers 18 and 16, respectively, and will be available for selection for Saturday's home match against the Tampa Bay Rowdies.