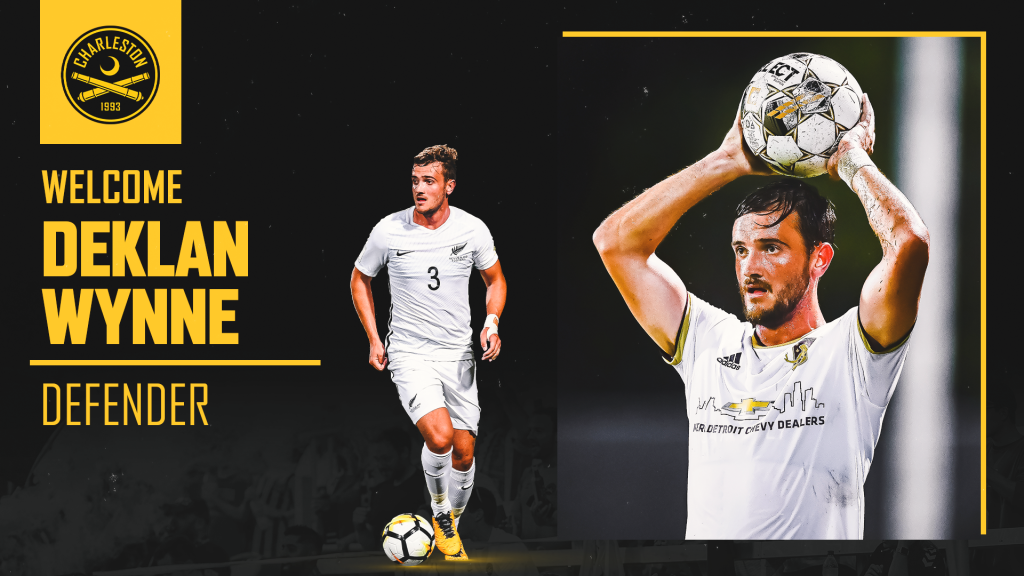 The Charleston Battery announced Tuesday the signing of New Zealand international defender Deklan Wynne to the 2023 roster, pending league and federation approval. He joins the Black and Yellow on a multi-year contract.
The 27-year-old brings with him bags of experience at the club and international levels, previously playing for MLS sides Vancouver Whitecaps FC and Colorado Rapids, USL Championship clubs OKC Energy FC and Detroit City FC, and is a current member of the New Zealand Men's National Team.
"What attracted me to signing for the Battery was, of course, the history of the club and the successes had in the past, along with the way Coach Pirmann wants to play an attacking brand of soccer," said Wynne. "I'm looking forward to linking up with my new teammates and coaching staff and creating a historic 2023 season that we can all be proud of when the year is over."
Wynne was a core piece of Detroit's run to the 2022 USL Playoffs last season, starting 36 matches while contributing three goals and eight assists across all competitions. His 2,940 minutes played in league competition were the most by an outfield player for Detroit. He was named the league's 2022 Mid-season Defender of the Year by fan vote. Wynne is capable of being deployed as both a left-back and left-midfielder.
At 19 years old, Wynne made his senior national team debut on November 14, 2014, contributing an assist in New Zealand's 1-1 draw against China. He also competed in tournaments for New Zealand's U-20 and U-23 teams.
Wynne has been capped by New Zealand's senior team 16 times, featuring in World Cup qualifiers and the Confederations Cup, and has tallied two assists. Wynne most recently played for the All Whites in a September 2022 friendly against Australia.
Head Coach Ben Pirmann is elated about bringing aboard the hard-working Wynne.
"Deklan is one of the best left-backs in all of the USL," said Coach Pirmann. "He had an incredible season with Detroit last year in leading them to the playoffs by providing double-digit goal involvements, while also consistently being a lockdown defender in the wide areas.
"Additionally, Deklan is a great footballer with good quickness, agility and stamina, making him the perfect mold of the modern-day fullback. He'll feature in our aggressive system up and down the left channel. Battery supporters will enjoy seeing Deklan working with his teammates to fight each and every minute this season."
In 2015, Wynne made the move to North America to join Vancouver Whitecaps FC 2, playing there for three seasons before being acquired by Colorado Rapids in December 2017. With Colorado, he made 39 appearances across all competitions from 2018 to 2019.
Wynne made his senior club debut in November 2013 for New Zealand side Wanderers SC, playing two seasons for the team before heading to the U.S.
A native of South Africa, Wynne's family emigrated to New Zealand when he was a teenager.
While still in New Zealand, Wynne had a message to pass along to supporters of the Black and Yellow ahead of the new season.
"I would like the Battery fans to know I'm very excited to be joining the club and to be giving my all during every game at Patriots Point with all of their support alongside the whole team," said Wynne.
---
2023 Roster
Goalkeepers: Daniel Kuzemka, Trey Muse
Defenders: Leland Archer, Derek Dodson, Benji Ettienne, Juan Sebastián Palma, AJ Paterson, Deklan Wynne
Midfielders: Chris Allan, Fidel Barajas, Andrew Booth, Robbie Crawford, Avionne Flanagan, Joe Schmidt, Emilio Ycaza
Forwards: Aidan Apodaca, Augustine Williams
---
Wynne is in! Join Deklan for the 2023 campaign and experience the Battery like never before with a Season Membership. Members enjoy a host of benefits, including significant per-match savings, Member-only exclusive events, merch discounts and more! Explore the options today: