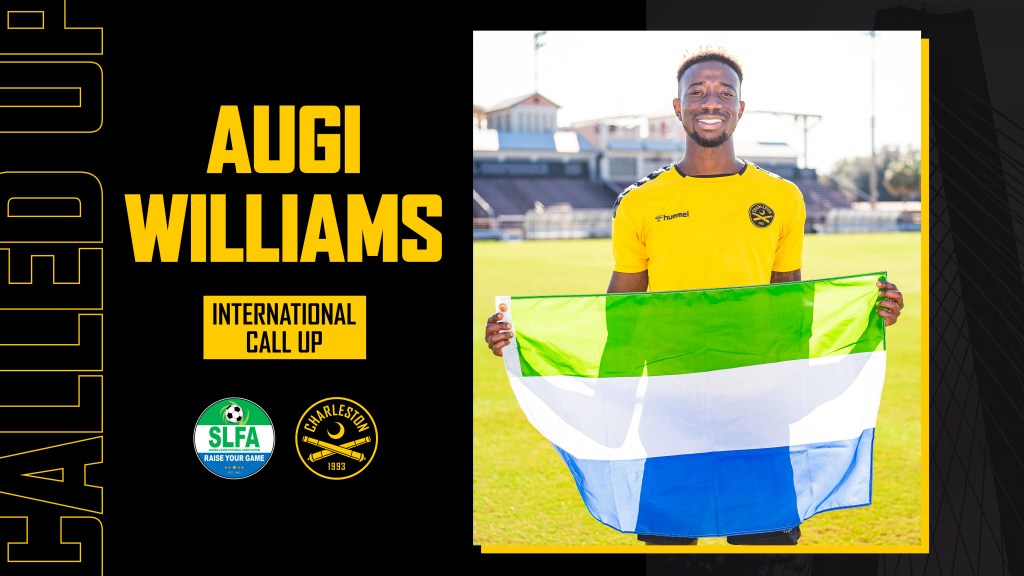 Charleston Battery forward and leading goalscorer Augustine "Augi" Williams has been called up to the Sierra Leone Men's National Team for a pair of international friendlies this month.
The Leone Stars will face South Africa on September 24 in Johannesburg, South Africa, and the Democratic Republic of the Congo on September 27 in Casablanca, Morocco. Augi is excited about the upcoming trip to represent Sierra Leone.
"It's an honor to be called up by the national team again to compete for my country," said Williams. "An amazing feeling to be able to represent over seven million people, that's something I take with pride."
Williams debuted for the Leone Stars on June 15, 2021, during qualification for the Africa Cup of Nations (AFCON) against Benin, where he helped the country qualify for the tournament for the first time in over two decades.
The forward was recalled to Sierra Leone's squad for the AFCON in January. Williams has made three total appearances for his country.
The call-up for the 25-year-old comes on the heels of the striker's most prolific scoring season of his career, as he's tallied 14 goals for the Battery in 2022. This includes a run of five consecutive matches across July and August where he scored a goal, bagging six during that time.
Augi is enthusiastic about facing international competition again with the Leone Stars.
"I'm looking forward to regrouping with the boys again, getting to work and playing against other nations while being able to represent Sierra Leone in the best way possible," said Williams. "The focus is preparing ourselves and getting the team stronger in all areas to be ready to compete in the AFCON as we reach closer to the qualifying stages again."
Williams will train and compete with Sierra Leone through the final week of September and will return to Charleston ahead of the away match on October 1 against Hartford Athletic.
Congrats, Augi!