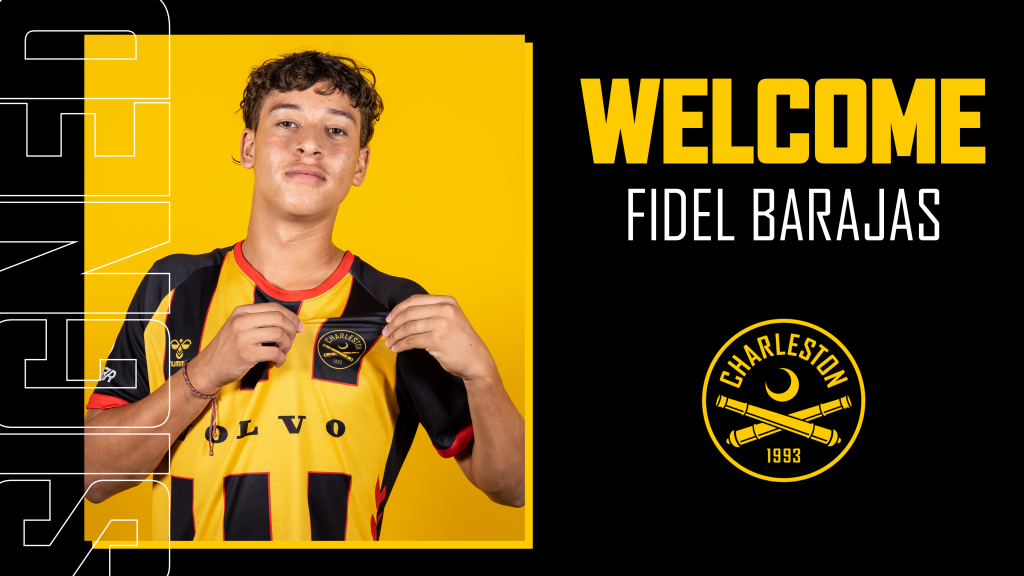 The Charleston Battery are delighted to announce the signing of 16-year-old winger Fidel Barajas to a multi-year contract, pending league and federation approval. Barajas has represented both the United States and Mexico at the youth international level.
A native of Sacramento, California, Barajas was previously a member of the talented San Jose Earthquakes Academy and competed in the development league MLS NEXT. Fidel inks his first professional deal in joining the Battery.
"I feel euphoric to sign my first professional contract," said Barajas. "It's everyone's dream to be a pro soccer player and being able to accomplish that at the age of 16, it just feels amazing.
"To all the Battery fans, I can't wait to have you all come out and cheer us on. I can't wait for them to see me play with the team, let's create something special here at the Charleston Battery."
The youngster has already established quite the résumé in his career with both the U-17 U.S. national team (five caps) and the U-17 Mexico national team (three caps).
Barajas competed in a UEFA Development Tournament in May 2022 with the USYNT, playing against the youth squads of Portugal, Italy and Belgium. The winger tallied an assist in the match against Belgium, a 0-3 victory. He's also taken the field against the youth teams of Argentina and Uruguay.
He more recently represented the Mexico U-17s at the International Dream Cup in Japan in June 2022. Fidel featured in matches against Japan, South Korea, and Uruguay, scoring one goal against South Korea and contributing two assists against Uruguay.
Head Coach Conor Casey is looking forward to integrating Barajas into the squad.
"Fidel is a very talented young player who has been impressive; he's smart, crafty on the ball and has very good technique," said Coach Casey. "He's played with the U.S. youth national team and the Mexico youth national team, and both countries are after him as he's one of the bigger names in the youth game right now.
"We're just so excited that he chose the Charleston Battery to start his professional career. We're a club that wants to be a place where young players can come through, develop, perform and help us win games. So, I think it's a great move for the club to have put in the work to be able to recruit a player like him."
Barajas attended Elk Grove Charter School and was ranked the No. 5 player in the U.S. by TopDrawerSoccer for the 2024 high school graduation class this past June.
Prior to San Jose, Fidel was a member of Sacramento Republic FC's academy in 2020 and youth club FC Sacramento from 2017 to 2019.
The winger holds dual citizenship with the U.S. and Mexico as his family is from Michoacán, Mexico.
Barajas will wear the number 11 and is available for selection for Saturday's home match against New York Red Bulls II.