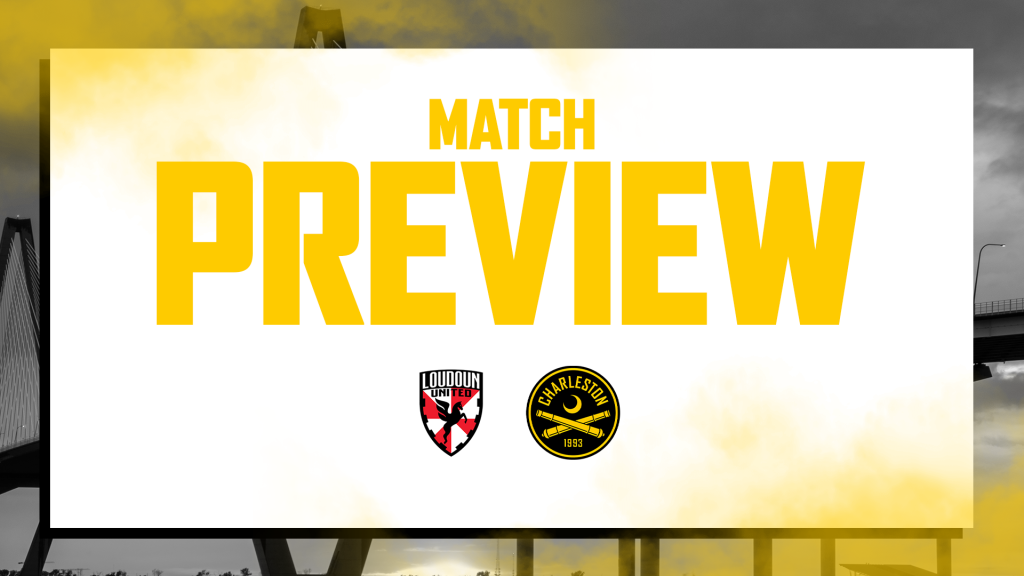 The Charleston Battery will hit the road for their next match when they take on Loudoun United FC on Saturday, May 28, in Leesburg, Virginia. Kickoff at Segra Field is slated for 7 p.m. ET.
The Black and Yellow swept Loudoun across four matches in 2021 and will look to keep that streak going. Last time the Battery visited Virginia, they beat Loudoun 3-5 in a high-intensity evening that featured DZ Harmon's first career professional goal among the five tallied. Charleston outscored Loudoun 10-3 during the campaign.
Loudoun enter Saturday's match in search of a return to form after a strong start to the 2022 season. The side were undefeated through their first three games, two wins and one draw, but are yet to secure a point since the end of March. Last Sunday, Loudoun fell 0-3 to Memphis 901 FC in a match that saw the visitors score early and often at Segra Field. The Virginia side had tight games on the road against Hartford and Detroit before returning home, and one can expect the club to fight hard in search of a result.
Charleston are also aiming to get back on track after a strong start to the season. The Black and Yellow hit the road for the first time in a month and will hope to bring back three points ahead of a brief homestand in early June. Charleston succumbed 0-4 against The Miami FC last Saturday in a game that also saw the visitors score early and often. A silver lining to the night was when AJ Paterson made his 2022 debut as a substitute in the 77th minute, the return of his presence should give the squad a boost heading into Saturday.
The weekend duel will be the final regular-season USL Championship match for the Battery against Loudoun at Segra Field. The Virginia outfit are due to compete in MLS Next Pro starting in 2023.
Charleston lead the all-time series with a 5-1-0 record over Loudoun.
The away match will also be close to home for Maryland native Brett St. Martin when Charleston make their lone visit to the DMV area in 2022.
Battery defender Matt Sheldon is slated to make his 100th regular season appearance in the USL Championship this Saturday, as the defender currently sits at 99.
ONES TO WATCH
Sami Guediri
Guediri has played an important role for Loudoun this year. The ex-Inter Miami player has been key to Loudoun's offense and currently leads the team in chances created (24) and shots (12). On the defensive side, he leads the club in tackles won (21) and duels won (57). Guediri has additionally tallied 17 interceptions and 16 clearances. Should he be in the lineup for Loudoun on Saturday, look for him to be a pivotal fixture for the side.
AJ Paterson
Paterson made his return to competitive action last match against Miami and logged valuable minutes in the second half. In his return, the Grenadian international had 23 touches and completed 94% of his passes (17 of 18) at left-back. Paterson, who is in his fourth season with the club, has developed into a vocal leader within the squad whose presence will be leaned upon as returns to action more regularly. Expect him to make an impact on Saturday when he's on the pitch.
From the training ground
The Battery were back at training on Tuesday following a period of recovery after the Miami match. The squad have been hard at work making preparations for Saturday's away day in Virginia.
"This week we focused a lot with the ball in our build-up phase and trying to be cleaner," said Coach Casey. "We've put ourselves in some bad situations over the last few weeks and we're continuing to work and progress through lines."
On facing Loudoun, who are D.C. United's reserves squad, Coach Casey said the Battery will be ready for any lineup they may see.
"[Loudoun could] have some guys coming down from D.C. and playing with them," said Coach Casey. "They play a similar style to their first team, so we've got some good pictures of how they play."
Segra Field is particularly known for its artificial turf and the squad is making sure to be ready for both the competition and the playing surface. Defender Brett St. Martin said team will look to take that challenge head-on come Saturday.
"It's a new challenge for us, going there to their stadium, their field, where they probably have a little bit of an advantage with the turf," said St. Martin. "But, that's something we need to adapt to and that's been one of our goals this season, to adapt quicker to things."
The trip to Virginia has some added meaning for the Maryland native.
"Playing close to home is something that I love," said St. Martin. "Going to [the University of] Maryland, I always had my friends and family there to support me. I think this is another great opportunity to see them and have them support me off the pitch as well as on the pitch."
Brett said the team is looking forward to the match as a chance to light a spark in the season as the club aims to turn things around.
"Our mentality has been to overcome adversity, and I think going on the road is a perfect new challenge for us," said St. Martin. "It's going to be huge for us to go and get a result there."
As of posting, Shak Adams is questionable, and Patrick Hogan, Enock Kwakwa, and Matteo Ritaccio are out. Kyle Holcomb returns in full to the squad and will be available for selection. DZ Harmon is unavailable for Saturday's contest due to suspension via a red card attained in the match against Miami.
Match info:
Loudoun United FC vs. Charleston Battery
Saturday, May 28 – 7 p.m. ET Kickoff
Segra Field
HOW TO WATCH:
All Battery matches will stream on ESPN+ domestically and through the league's YouTube channel for free internationally.