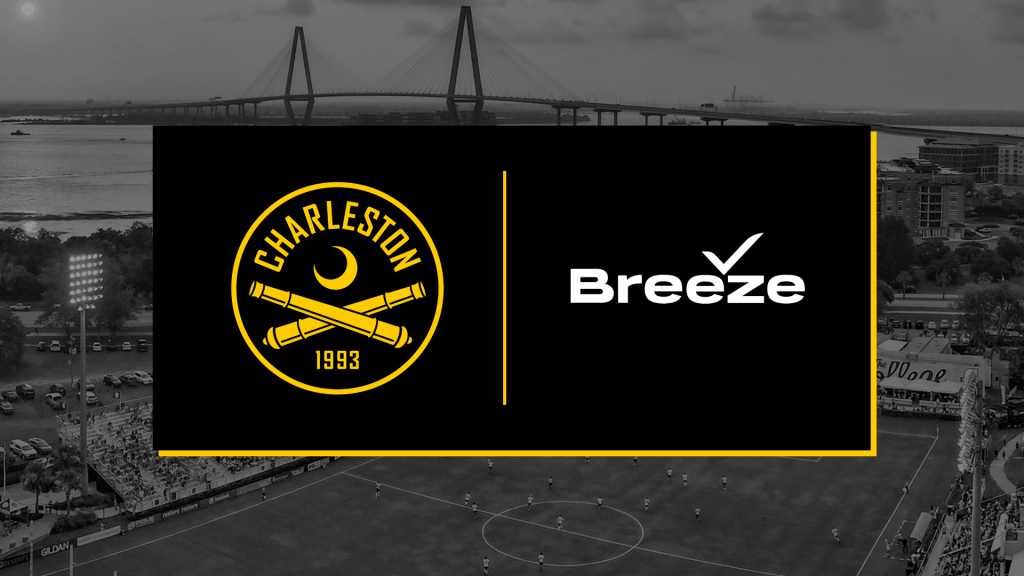 The Charleston Battery announced Thursday an expanded partnership with Breeze Airways™ and Charleston International Airport. The partnership, which started in early 2022 with the 'Seriously Nice' airline teaming up with the Battery to bring back the Carolina Challenge Cup, includes Breeze retaining naming rights of the food and beer garden at the club's stadium – the Breeze Airways™ Pavilion.
"It was amazing working with Breeze this year to bring back the beloved Carolina Challenge Cup," said Battery President of Business Operations Scott Krenitski. "We both knew there was so much room to grow our collaboration thereafter and we're excited to incorporate Breeze into one of the most prominent features at our stadium and now call it the Breeze Airways™ Pavilion."
The Breeze Airways™ Pavilion at Patriots Point has quickly become a favorite gathering spot for fans before and during matches this season. The pavilion is home to the club's premier food partners Home Team Barbecue, The Co-Op, Cachita's Kitchen, and Coastal Crust Wood-fired Pizza, as well as the pavilion stage featuring local musicians during pre- and post-match concerts, the Volvo Cars experience, and the Battery kids pitch. Fans can continue to expect a 'seriously nice' experience at matches this season with Breeze's added presence.
"Breeze is thrilled to continue working with the Charleston International Airport in our support of the Battery," said Angela Vargo, Vice President of Marketing for Breeze Airways. "Since presenting the Carolina Challenge Cup, we've continued to grow our commitment to this great community as well as our nonstop service to and from Charleston, our largest base. We look forward to welcoming fans to the new Breeze Airways Pavilion all summer long."
Since launching in 2021, Breeze has provided the most nonstop flights from Charleston International Airport growing from an initial 13 to 19 nonstop markets served in less than a year.
"Since launching service at Charleston International in May 2021, Breeze has consistently increased its investment in our region," said Helen Hill, CEO of Explore Charleston and Chair of the Charleston County Aviation Authority. "This expanded sponsorship with the Battery is further evidence that Breeze's commitment to the Charleston area extends beyond offering nonstop flights to more destinations than any carrier serving our market. We appreciate Breeze prioritizing community partnership and demonstrating the important role tourism plays in our local economy." 
Many of the Battery's Eastern Conference opponents are located in markets Breeze provides nonstop service to and from Charleston International Airport including Louisville (City), Hartford (Athletic), Tampa Bay (Rowdies, and Pittsburgh (Riverhounds SC). Fans can take advantage of low fares and flexible booking when following the team on the road this season.