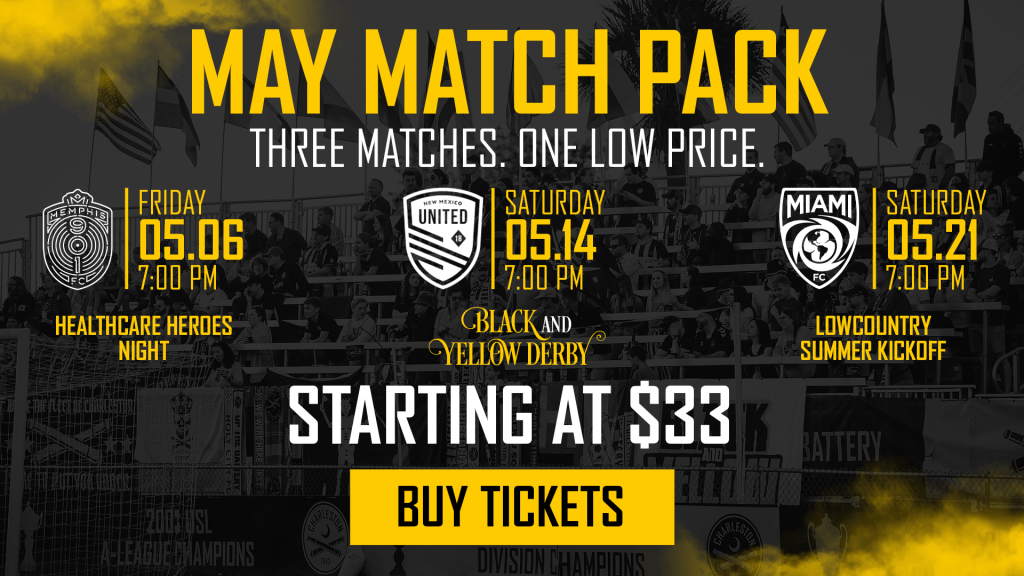 The Charleston Battery, ahead of May's upcoming homestand, announced Thursday the May Match Pack providing fans with a single, discounted price to experience all three home matches this May at Patriots Point.
The May Match Pack is available now, starting at $33, for the games scheduled for Friday, May 6, against Memphis 901 FC, Saturday, May 14, against New Mexico United and Saturday, May 21, against The Miami FC. Fans can save up to $40 on tickets to all three matches through the new 3-match pack promotion.
May's slate of home games includes a host of festivities at the stadium with dedicated celebrations each match:
Healthcare Heroes Night | Fri., May 6 vs. Memphis 901 FC | 7 PM
Presented by MUSC Health
Coinciding with National Nurses Day, the Battery and MUSC Health are honoring our local healthcare heroes all match long! MUSC Health employees have access to free tickets through MUSC and the first 500 fans through the gates receive a special Battery rally towel!
The Black and Yellow Derby | Sat., May 14 vs. New Mexico United | 7 PM
Fellow black-and-yellow side New Mexico United come to Charleston for the very first time. Dubbed the "Black and Yellow Derby," the two clubs and their supporters have developed a kindred spirit over the past two seasons.
United's first-year manager Zach Prince returns to the Lowcountry where he started his career, having played for the College of Charleston before making his professional debut with the Battery in 2010. Fans can look forward to a special limited-edition Derby poster giveaway to the first 500 people through the gates, as well as 'mug night' with discounted beers available through the purchase of a commemorative beer stein.
Lowcountry Summer Kickoff | Sat., May 21 vs. Miami FC | 7 PM
We're kicking off summer in the Lowcountry with gates opening early for a summer celebration in the Battery Pavilion. Fans can look forward to drink specials throughout the celebration plus an exclusive Battery Summer Koozie giveaway for the first 500 people through the gates, provided by Diamonds Direct.
Fans can take advantage of all three matches this May with the May Match Pack, on sale now for as little as $11 per match on SeatGeek or by calling 843-971-GOAL!