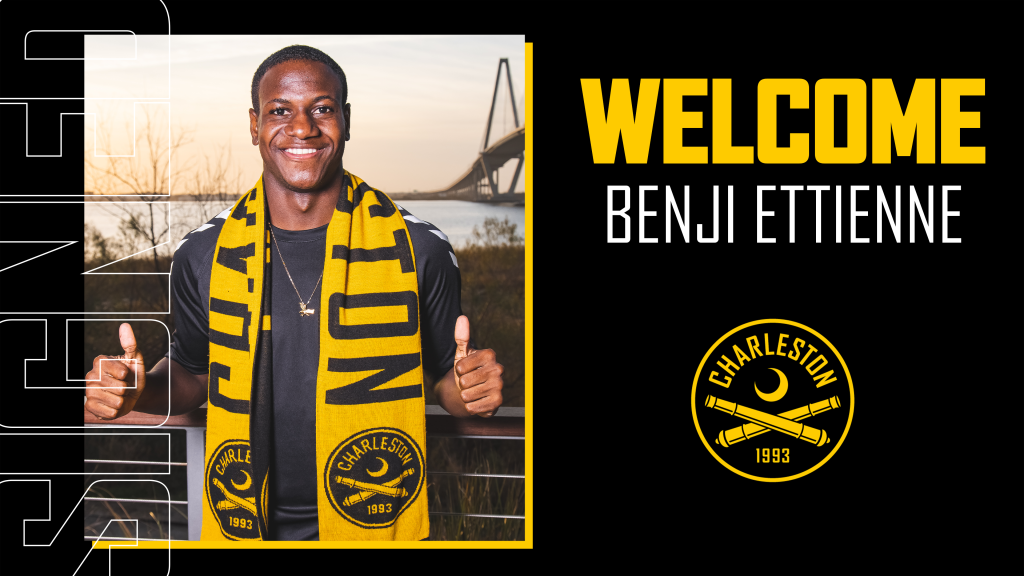 The Charleston Battery announced Friday the signing of defender Benjamin "Benji" Ettienne to the 2022 roster on a multi-year contract, pending league and federation approval. Ettienne, 18, has made five appearances with the Grenada national team.
Ettienne debuted with the Spice Boys during the Concacaf qualifiers for the 2022 FIFA World Cup against the U.S. Virgin Islands on March 30, 2021. In total, he's appeared in two World Cup qualifiers and three Gold Cup matches.
The youngster joins fellow Grenadian international AJ Paterson in Charleston.
"I want to first thank my coaches and everyone who helped me to get here, it feels amazing, it's a very special moment for me to sign my first professional contract," said Ettienne. "I am looking forward to growing and developing as an individual while helping the team fight for a title.
"I will embrace this opportunity in the USL Championship, learn as much as I can, work hard in training, keep my discipline and execute to the best of my ability."
Ettienne has also featured for the Grenada U20 squad, having made seven appearances since 2020, twice as captain. The defender has scored six goals and tallied three assists with the team. His first youth international appearance came with the Grenada U17 team on March 22, 2019, against the Nicaragua U17s, his only match at that level.
"Benji has a lot of the talent we are looking for, he's a good young player and we're very excited about him," said Battery Head Coach Conor Casey. "He's quite solid defensively and he gives us a bit going forward offensively. He's at a good stage in his career now to be in a professional environment, I look forward to working with him and helping him improve."
The defender's versatility on the right side has seen him positioned in the midfield in addition to the back line.
At the club level, Ettienne previously played with Grenadian sides Queen's Park Rangers (2016-21) and St. George Royal Cannons (2020).
Ettienne is excited to join his compatriot Paterson in Charleston.
"AJ has been a good role model to everyone on the national team, his professionalism and mentality are outstanding, I hope to capitalize on that by being closer to him," said Ettienne. "We always talked before games, he's like a big brother to me, so I hope that he will continue to guide me as I start my new journey."
Ettienne becomes the seventh new player added to the roster ahead of the 2022 season and elevates the total number of players on the squad to 17.
2022 Roster
Goalkeepers: Joe Kuzminsky
Defenders: Leland Archer, Benjamin Ettienne, Patrick Hogan, Preston Kilwien, AJ Paterson, Matt Sheldon
Midfielders: Andrew Booth, Burke Fahling, DZ Harmon, Dominic Oduro, Geobel Perez, Romario Piggott
Forwards: Shak Adams, Aidan Apodaca, Nicque Daley, Claudio Repetto